Radio On Air (ROA) Festival yang diselenggarakan oleh UKM Uvon Radio Jakarta Institut Bisnis Nusantara, sukses menggelar festival musik pada Jumat (19/5/2023) pukul 19.00 WIB hingga 23.30 WIB di kampus Institut Bisnis Nusantara dengan acara yang bertemakan 𝘠𝘰𝘶𝘯𝘨 𝘊𝘳𝘦𝘢𝘵𝘪𝘷𝘦 𝘗𝘦𝘰𝘱𝘭𝘦. The True Friends menjadi pembuka pada acara tersebut, disusul oleh penampilan band lainnya seperti Sisitipsi, Remember Of Today dan Reality Club yang menjadi pengisi acara pada festival tersebut.
ROA Festival merupakan Non Program Kerja UKM Uvon Radio Jakarta yang pada tahun ini dilaksanakan di akhir periode 2022.
"ROA Fest ini rangkaian acara dari siaran bareng Uvon Radio Jakarta. Di era sekarang ini banyak remaja-remaja kreatif yang memperbarui suatu event dengan pemikiran-pemikiran barunya, jadi menjadikan kita untuk berpikir kreatif dan ada sesuatu yang baru di ROA Fest ini," ujar Annisa Rizkyah dari program studi 𝘉𝘳𝘰𝘢𝘥𝘤𝘢𝘴𝘵𝘪𝘯𝘨 angkatan 2020 selaku Manajer Uvon Radio periode 2023.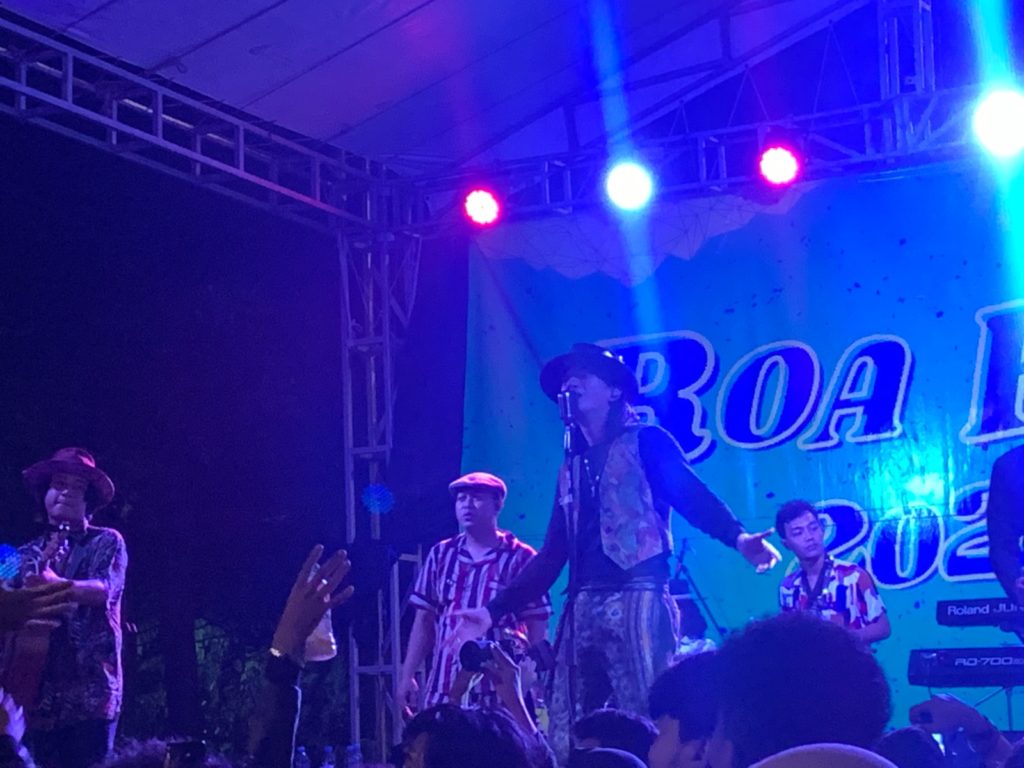 Penampilan dari Sisitipsi di acara puncak ROAFEST pada Jumat (19/05/2023) (Foto: MATAIBN)
Pada ROA festival 2022, UKM Uvon Radio menyelenggarakan beberapa rangkaian perlombaan, sementara pada ROA Festival 2023 ini diisi dengan rangkaian festival musik. Ini merupakan program perdana yang diselenggarakan oleh Uvon Radio Jakarta. Sekitar kurang lebih 600 tiket terjual dan sebanyak kurang lebih 600 penonton turut hadir meramaikan acara ROA Festival dengan segmentasi penonton mahasiswa Institut Bisnis Nusantara dan umum.
Festival dibuka oleh MC dan dilanjutkan dengan pemberian sambutan oleh Destry Crysty sebagai ketua pelaksana. Acara dilanjut dengan penampilan musik dari keempat 𝘨𝘶𝘦𝘴𝘵 𝘴𝘵𝘢𝘳.
Festival ROA dihadiri oleh sejumlah civitas akademika, seperti Ibu Rektor Dr. MF. Christiningrum, Ak., CA. yang turut memberikan sambutan pada awal acara. 
"Kali ketiga kampus menjadi lebih meriah dari waktu ke waktu, yang mengajarkan mahasiswa bagaimana menyelenggarakan event. Melalui acara yang terselenggara, mahasiswa terus dipacu kreatif untuk menciptakan banyak hal produktif yang bisa mengembangkan kemampuan," ujar Ibu Christin pada awal sambutannya.
Penampilan dari Truefriends di acara puncak ROAFEST pada Jumat (19/05/2023) (Foto: MATAIBN)
Ramai penonton berantusias mengikuti festival hingga penghujung acara. Dengan membawakan lagu berjudul 𝘈𝘯𝘺𝘵𝘩𝘪𝘯𝘨 𝘠𝘰𝘶 𝘞𝘢𝘯𝘵, Reality Club menjadi 𝘭𝘪𝘯𝘦 𝘶𝘱 penutup pada acara ROA Festival 2023.
Anisa berharap melalui acara festival ini, Uvon dapat dikenal semakin luas demi mengharumkan IBN.
"Semoga bisa membawa Uvon menjadi lebih baik lagi dan lebih mengudara," pungkasnya.
Reporter : Nanda Naisya Puteri dan Yulia Novianti
Editor : Erza Lisnawati