Institut Bisnis Nusantara (IBN) sukses mengikuti RedDoorz Goes to Campus X Institut Bisnis Nusantara (IBN) dengan tema "Perencanaan Bisnis di Perusahaan Hospitality" pada Rabu (13/9/23) pukul 10.00 WIB hingga 12.00 WIB di Ruang Wisdom lantai 5 Gedung IBN Pulomas.
Adapun narasumber pada kegiatan ini adalah Head of Sales Excellence Pak Muhammad Alif Aldila. Pada kesempatan ini, Pak Muhammad Alif menjelaskan perkembangan RedDoorz yang begitu pesat, khususnya di Indonesia. Pada awalnya, menurut Pak Muhammad Alif, para founder melihat peluang bisnis properti yang belum dimanfaatkan secara
maksimal dari sisi managerial. Menurutnya, ada banyak bisnis properti yang dikelolah secara konservatif dan terpisah-pisah. Oleh karena itu, sulit bagi calon pengguna untuk menemukan lokasi penginapan yang nyaman ketika berkunjung pertama kali ke suatu tempat. Oleh karena itu, penting untuk menyatukan bisnis-bisnis properti ini secara komunal sehingga mudah untuk dijual kepada pasar sebagai sebuah entity dengan keunikan khas dengan harga yang terjangkau.
"Jadi, para founder menangkap peluang di Indonesia yang memiliki banyak tujuan wisata dengan peluang bisnis properti yang bisa dikomunalkan dengan sebuah branding yang mudah diingat yakni RedDoorz," ujarnya.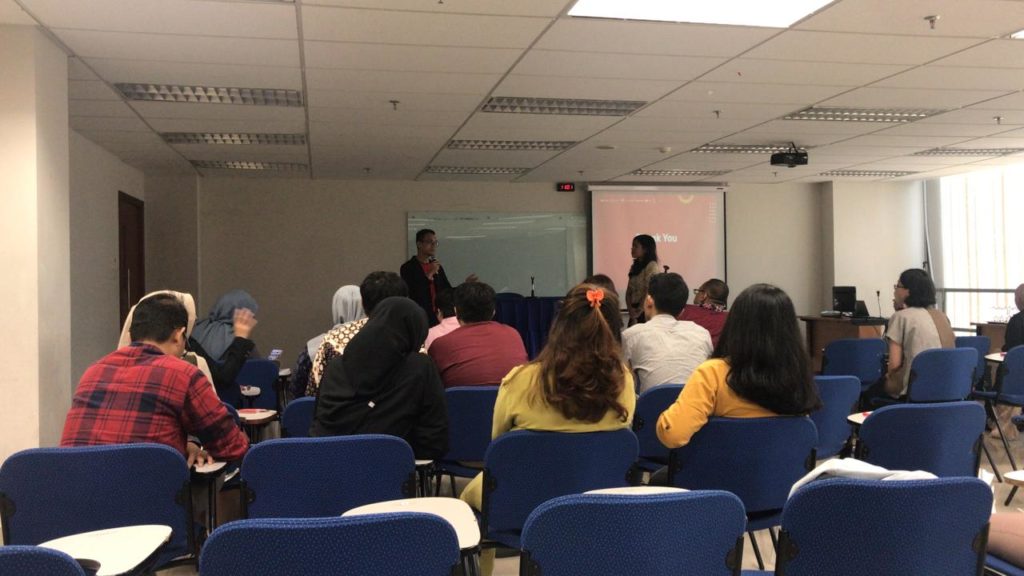 Head of Sales Excellence Pak Muhammad Alif Aldila menyampaikan materi

Branding ini, menurutnya perlu memberikan pengalaman menginap yang dirawat dengan baik demi pelebaran sayapnya. Adapun mottonya adalah memberikan pengalaman menginap yang memuaskan sekalipun dengan biaya yang bersahabat kepada setiap tamu.
"Pada saat ini, berdasarkan data terbaru, sudah ada sekitar 1600 properti di Indonesia yang kita ajak menjadi partner bisnis di bawah RedDoorz," ujarnya.
Ia juga menjelaskan bahwa untuk melebarkan sayap, perusahaannya membutuhkan partnership yang bagus dengan menggandeng seluruh pihak termasuk kaum muda.
"Kita berusaha mengedepankan partnership. Kita juga berusaha menggandeng kaum muda yang berkompeten untuk menjadi bagian dari pengembangan tim demi penguatan partnership di lapangan," ujarnya.
Senada dengan Pak Muhammad Alif, Bu Nindi menjelaskan tentang peluang yang diberikan kepada mahasiswa IBN melalui program Business Development Academy atau yang dikenal dengan Reddy DNA yang akan berlangsung selama 4 bulan. Melalui program ini, Bu Nindi menjelaskan bahwa RedDoorz berusaha merangkul potensi muda untuk menemukan properti terbaik RedDoorz sebagai upaya pelebaran sayapnya.
"Jadi, bagi mahasiswa IBN kami berikan kesempatan untuk berkembang. Program ini akan membantu teman-teman mahasiswa mengasah seluruh kemampuan teman-teman di masa muda di bidang properti," ujarnya.
Keseruan diskusi pada saat Seminar berlangsung
Untuk dapat mengikuti program ini, mahasiswa fresh graduate diharapkan segera mengirimkan CV ke bit.ly/RDIntern23. Bagi peserta yang lolos akan dibina selama 4 bulan melalui 4 tahapan. Pada tahapan pertama, peserta akan diberikan materi Fundamental & Departmental Trainings, tahap kedua Coaching & Mentoring, tahap ketiga On the job (OJT) dan tahap ke 4 Soft Skills training. Seluruh tahapan, menurutnya akan membekali peserta untuk dapat menjadi bagian pelebaran sayap RedDoorz dan mengasah kemampuannya di dunia properti. Selama proses pembinaan, peserta akan mendapatkan uang saku dan jaminan kesehatan oleh RedDoorz. Apabila dalam pelaksanaan 4 bulan peserta mampu mengukir prestasi, menurutnya sangat besar kemungkinan untuk diangkat menjadi staf tetap dengan perkembangan karir yang menjanjikan.
"Semoga program ini bisa dimanfaatkan secara maksimal oleh mahasiswa IBN yang berkesempatan hadir pada hari ini. Semoga kesempatan menjadi bagian dari Reddy DNA ini dapat menjadi pintu kesuksesan bagi pengembangan karir secara nasional bahkan internasional teman-teman sekalian," pungkasnya.
Para penanya mendapatkan bingkisan dari RedDoorz