Rektor Institut Bisnis Nusantara (IBN) Ibu Dr. MF Christiningrum, Ak.CA. sukses menjadi pembicara dalam kelas Internasional Magister Manajemen Universitas Baguio Filipina yang diselenggarakan pada Jumat (22/4/2022) pukul 16.30 hingga 18.20 WIB.
Acara perkuliahan hybrid ini diselenggarakan secara daring menggunakan Zoom dan diikuti kurang lebih 50 peserta yang terdiri dari dosen, mahasiswa program S1 dan S2 Program Studi Manajemen IBN dan juga dosen serta mahasiswa S2 Program Studi Manajemen Universitas Baguio Filipina.      
Kerja sama ini merupakan salah satu implementasi dari peningkatan mutu pendidikan di tingkat perguruan tinggi yang juga berpengaruh dalam proses LAMEMBA (Lembaga Akreditasi Mandiri Ekonomi Manajemen Bisnis dan Akuntansi) mendatang.
Kerjasama lintas program studi diharapkan dapat dilaksanakan tidak hanya lintas kampus dalam skala nasional tetapi juga mencakup skala internasional.
Adapun tema yang diangkat dalam perkuliahan ini adalah "Manajemen Strategi" dan sesi diskusi dimoderatori oleh Prof. Dianne Acosta dari Universitas Baguio Filipina.
Kegiatan ini diharapkan dapat mengasah kemampuan analisis bisnis mahasiswa Magister Manajemen sehingga siap menghadapi tantangan dunia global.
Dalam kesempatan ini, Ibu Dr. MF Christiningrum, Ak.CA. mempersentasikan hasil penelitiannya dengan judul "Effect of Diversification Strategy, Leverage and IOS on Multi-Segment Corporate Performance in Indonesia". 
Dalam persentasinya, Ibu Christiningrum menunjukkan ketiga hipotesis yang mengawali penelitiannya, metode yang digunakan, data yang didapatkan dan hasil dari penelitiannya.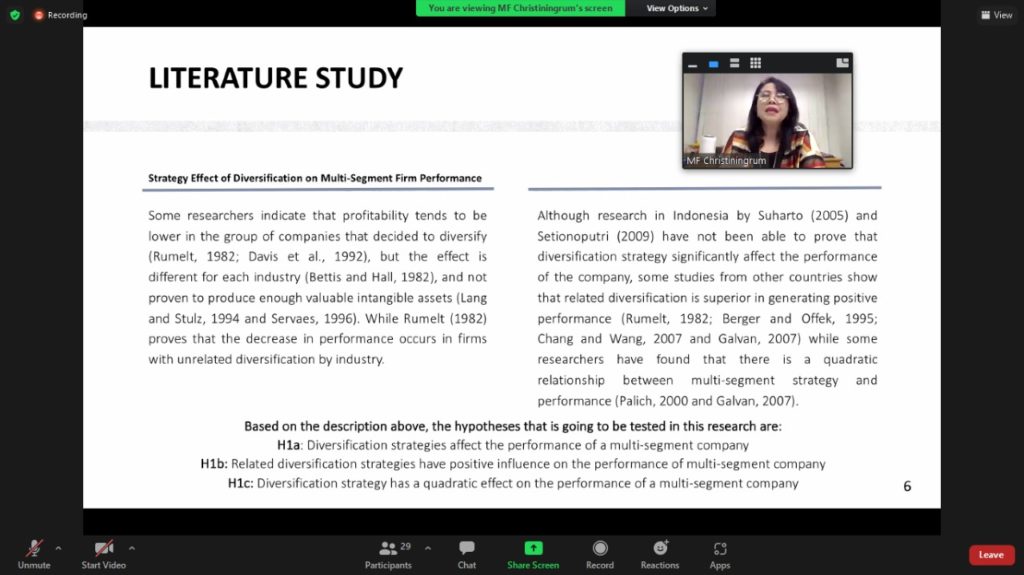 Rektor IBN Bu Dr. M.F. Christiningrum, Ak., CA,. mempersentasikan hasil penelitiannya 
Menurut Ibu Christiningrum, konglomerasi yang terjadi di Indonesia bukan karena kompetensi yang dimiliki perusahaan dalam mengelolanya namun karena permintaan pasar. Jika ada permintaan, maka perusahaan akan cenderung menyediakannya. Hal ini menurutnya sering mengakibatkan fondasi perusahaan tidak kuat karena perusahaan dipaksa mengelolah segmentasi di luar dari segementasi semula.
"Segmen yang ditentukan oleh pasar ini awalnya memang bagus dan menghasilkan keuntungan yang besar namun di sisi lain segmen yang baru itu menjadi penyebab menurunnya performa,"ujarnya.
Bu Christin juga menjelaskan bahwa hal ini dapat dilihat dari kacamata yang berbeda.
"Kalau itu dilihat dari accounting performance akan menurun karena pembukaan segmen namun, jika dilihat dari pasar, pembukaan segmen ini sangat diapresiasi karena perusahaan-perusahaan yang membuka segmen akan memiliki sumber pendapatan yang beragam,"ujarnya.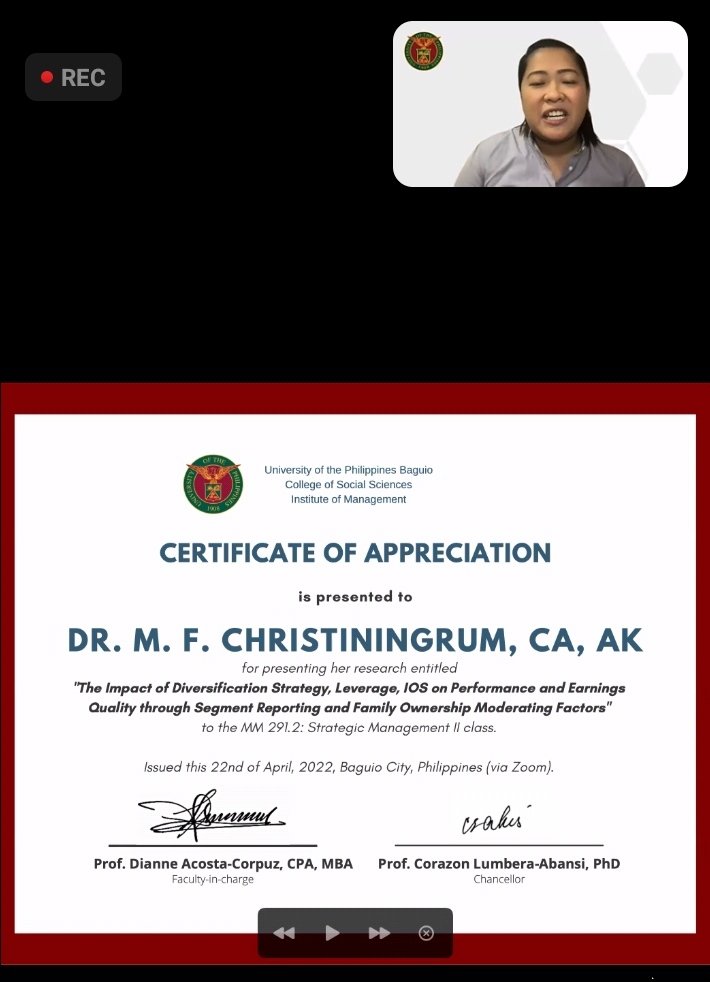 Piagam Penghargaan untuk Rektor IBN Bu Dr. M.F. Christiningrum, Ak., CA,. oleh Prof. Dianne Acosta dari Universitas Baguio Filipina

Hal tersebut menurut Bu Christin sangat relevan dengan VUCA (Volatility, Uncertainty, Complexity, dan Ambiguity) era yang sedang dihidupi masyarakat dunia.
"Banyaknya segmen itu justru menolong perusahaan yang berani membuka banyak segeman karena perusahaan ini lebih siap menangkap kesempatan yang datang dibandingkan dengan perusahaan yang memilih bertahan pada satu segmen saja," pungkasnya.
Peserta perkuliahan online yang terdiri dari dosen dan mahasiswa Program Studi Manajemen IBN dan Program Studi Manajemen Universitas Baguio Filipina