Himpunan Mahasiswa Komputer (HIMAKOM) Institut Bisnis Nusantara (IBN) sukses melaksanakan Penelitian dan pengabdian masyarakat di Desa Mekarwangi, Kecamatan Cariu, Kabupaten Bogor selama 4 hari dimulai dari Rabu (11/10/2023) hingga Sabtu (14/10/2023).
Acara pelepasan keberangkatan dihadiri oleh seluruh panitia dan peserta serta Rektor Institut Bisnis Nusantara Ibu Dr. M.F. Christiningrum, Ak.,CA., Wakil Rektor III Bidang Kemahasiswaan, Penelitian, dan Pengabdian Masyarakat Bapak Ferdinandus Agung Himawan, S.E., M.M. dan pembina Himpunan Mahasiswa Komputer Bapak Novan Yurindera, S.Kom., M.M.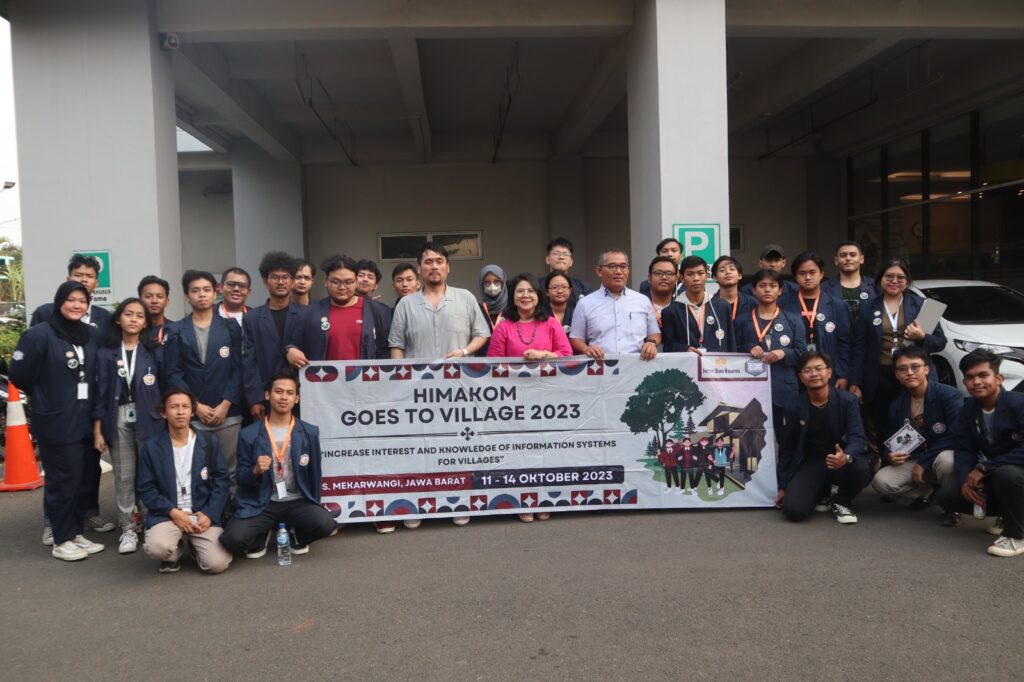 Pelepasan Acara pelepasan keberangkatan HIMAKOM di lapangan Gedung IBN Pulomas
Adapun tema yang diangkat pada acara ini adalah "Increase interest and knowledge of information systems for villages". Acara dipandu oleh Luthfiayu Widyaningrum dan Muhammad Ubay Hermawan. Sebelum masuk ke acara inti, terdapat sambutan dari perwakilan HIMAKOM IBN, Karang Taruna dan Kepala Desa setempat.
Pada kesempatan ini, terdapat beberapa sambutan yang disampaikan oleh perwakilan HIMAKOM IBN yakni Ketua Pelaksana Emmanuel Daud dan Ketua Umum HIMAKOM Sultan Nurfarhan. Sementara sambutan dari tuan rumah disampaikan oleh Perwakilan Karang Taruna Muhammad Wandi Wahyudin dan Kepala Desa Bapak Asep Sofian.
Pada kegiatan ini, turut hadir PKK Desa Mekarwangi.
Dokumentasi kegiatan Abdimas bersama narasumber Ibu Nia Janiati, S.Si, MM.
Adapun pembicara pada kegiatan ini adalah Asy Syifa Zahwa Faiha dan Daffa Btara tentang "Pengenalan Pemasaran Online Menggunakan E-commerce & Praktik Membuat Akun Shopee".
Acara dilanjutkan dengan Fun Games pada pukul 13.00 WIB dengan melibatkan karang taruna dan remaja setempat melalui permainan Futsal di lapangan MTS Mekarwangi. Peserta pertandingan antusias menyambut berbagai hadiah perlombaan.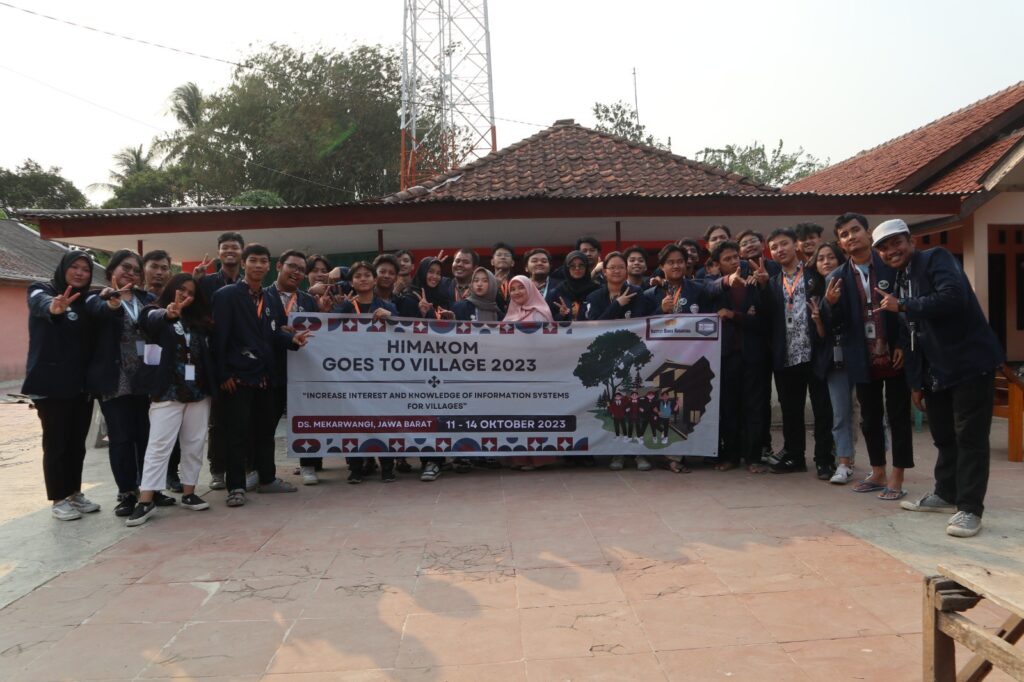 Dokumentasi kegiatan Abdimas bersama seluruh peserta
Pada hari kedua (13/10/2023) kegiatan dilanjutkan dengan kunjungan ke tempat wisata Desa Mekarwangi yaitu Cikumpeni yang di kelola oleh BUMDes (Badan Usaha Milik Desa). Di tempat tersebut, panitia dan peserta melakukan sharing session bersama BUMDes Desa Mekarwangi Bapak Budi.
Kemudian dilanjutkan dengan seminar tentang "Cara Memasarkan Produk pada Shopee" dengan menghadirkan dosen IBN Ibu Ratih S.Kom., M.Kom dan tentang "Strategi Promosi" oleh dosen IBN Ibu Ibu Nia Janiati, S.Si, MM. 
Pemberian plakat oleh HIMAKOM kepada pengurus Desa Mekarwangi
Pada hari selanjutnya, peserta disuguhi dengan penampilan dari perwakilan remaja Desa Mekarwangi.
Acara Abdimas dan penelitian ini ditutup dengan pemberian plakat oleh HIMAKOM kepada pengurus Desa Mekarwangi sebagai bentuk apresiasi atas izin pengabdian yang diberikan.
Pada kesempatan ini, HIMAKOM juga menyerahkan hasil penelitian berupa profile website kepada Karang Taruna Desa Mekarwangi dan penyerahan sertifikat kepada PKK Mekarwangi.
Ketua Prodi Sistem Informasi dan Sistem Komputer Bapak Novan Yurindera, S.Kom., M.M. mengapresiasi seluruh panitia HIMAKOM dan peserta Abdimas yang telah terlibat.
"Tri dharma perguruan tinggi tidak hanya berlaku untuk dosen namun juga oleh mahasiswa, dan mahasiswa komputer IBN dalam hal ini diwakili oleh Himakom telah melakukan pengajaran, penelitian dan pengabdian kepada masyarakat," ujarnya.
Menurutnya, kolaborasi dosen dan mahasiswa dalam Abdimas HIMAKOM ini dapat dilakukan secara rutin dengan menggandeng perguruan tinggi lainnya.
"Semoga apa yang telah dilakukan oleh HIMAKOM selama 2 tahun terakhir ini tetap dapat dilanjutkan di masa mendatang dengan meningkatkan kualitas dan juga kuantitas pelaksanaannya," pungkasnya.
Pemberian sertifikat oleh HIMAKOM kepada PKK Mekarwangi