Institut Bisnis Nusantara program Internasional (GS FAME Institute of Business) sukses menyelenggarakan webinar dengan tema "Improve Your Skills to Overcome Challenges in Digital Era" pada Rabu (9/3/2022) pukul 15.00 hingga 16.30 WIB.
Supervisor Humas dan Admisi GS FAME, Bu Megah Ria menyapa pembicara dan seluruh peserta yang sudah menyediakan waktu untuk memperdalam materi tentang pentingnya mempersiapkan diri menghadapi perkembangan teknologi digital di era Web 3.0 pada webinar ketiga yang diadakan oleh GS FAME Institute of Business sejak awal tahun 2022.
"Selamat datang di acara webinar ini. Semoga acara ini dapat kita ikuti bersama dengan seksama sehingga kita bisa mengimplementasikan ilmu yang dibagikan dari acara ini," ujarnya.
Supervisor Humas dan Admisi GS FAME, Bu Megah Ria 
Sebelum acara dibuka, Rektor IBN Dr. M.F. Christiningrum, Ak., CA mengapresiasi acara dan berpesan kepada seluruh peserta untuk bersungguh-sungguh secara terbuka menyerap segala ilmu yang diberikan melalui webinar tentang perkembangan digital.
"Kita mehami bahwa digital era sudah memasuki kehidupan kita semua dan kita menjadi sangat tergantung dengan teknologi. Apalagi di era pandemi ini, yang paling beruntung adalah orang-orang yang bisa memanfaatkan teknologi dengan sebaik-baiknya. Kita berharap apa yang disampaikan goKampus dapat membuka wawasan kita tentang perkembangan teknologi digital dan mengetahui kita-kiat menguasainya," ujarnya.
Bu Christin juga merasa beruntung karena peserta bisa menyadari ada hal penting yang harus dimanfataakan dengan sungguh-sungguh di era ini. Ia juga membuka kesempatan bagi peserta yang untuk mendalami dunia bisnis untuk mendaftar di IBN ataupun di GS FAME (IBN Internasional).
"IBN yang bergerak dalam mendidik pelaku bisnis masa depan menyiapkan begitu banyak program beasiswa yang bisa mempercepat peserta memasuki dunia bisnis di era digital ini. Sukses selalu untuk kita dan jadilah anak muda yang bahagia dengan memanfaatkan teknologi digital dengan baik," ujarnya.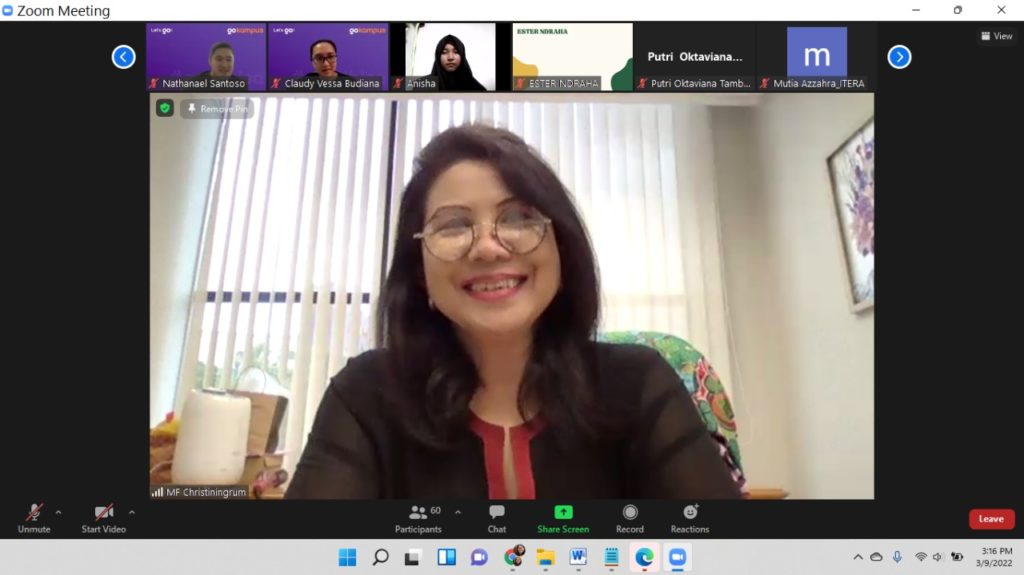 Rektor IBN Dr. M.F. Christiningrum, Ak., CA 
Sebelum narasumber membagikan materinya, Tim Humas GS FAME Sefaka Liman menjelaskan profil singkat mengenai GS FAME dan keuntungan diperoleh peserta didik jika mengikuti program perkuliahan yang disediakan.
"Beberapa keunggulan program ini dibandingkan Institusi yang lain adalah seluruh materi pembelajaran menggunakan bahasa Inggris, peserta didik dapat lulus dalam waktu 3 tahun dengan dua gelar sekaligus yakni gelar internasional Bachelor of Science in Business Administration (BSBA) dan gelar nasional Sarjana Ekonomi (SE) dan terdapat ragam beasiswa pendidikan yang meringankan biaya pendidikan," ujarnya. 
Tim Humas GS FAME Sefaka Liman 
Setelah itu, narasumber Nathanael Santoso yang merupakan Founder dan CEO of goKampus mengawali persentasinya dengan memberikan gambaran mengenai teknologi digital.
"Digital hanyalah sebuah medium yang mengimprove bagaimana kita hidup dan bagaimana kita belajar. Digitalisasi membuat manusia bisa hidup saat ini secara real time," ujarnya.
Nathanael juga menjelaskan 3 tipe web sesuai dengan perkembangan zaman yang sangat mempengaruhi kualitas kehidupan manusia hingga era digital ini.
"Ada 3 tipe web yang sudah berkembang sampai sekarang. Tipe web 1.0 merupakan tipe web dengan tujuan satu arah karena secara objektif hanya memberikan informasi kepada khalayak secara satu arah. Tipe web 2.0 sudah memungkinkan komunikasi dilakukan secara dua arah. Tipe web 3.0 sudah memungkinkan kita melakukan komunikasi dua arah dan real time seperti berada di wilayah tersebut dalam satu waktu tertentu," ujarnya.
Hal yang paling diperlukan adalah mempersiapkan individu untuk menyadari kemampuannya dan mengasah kemampuan mendasar yang sangat dibutuhkan di era ini yakni kemampuan menganalisis, kemampuan mengelolah teknologi digital dan kemampuan menyelesaikan masalah.
Kemampuan menganalisis menurut Nathan sebagai pengguna teknologi adalah mengetahui dengan baik jenis digital yang tersedia dan mengerti teknologi mana yang paling cocok untuk mendukung aktivitas dan kegiatannya. Selain itu, penting juga mengetahui perbedaan teknologi yang digunakan dibandingkan dengan teknologi lainnya. Ia juga menekankan bahwa teknologi akan mengambil alih proses analisis untuk memudahkan manusia dalam beraktivitas.
"Jika kita bangun setiap hari jam 6 pagi kemudian melakukan aktivitas lain-lainnya hingga kembali beristirahat ada baiknya kita lakukan analisis terkait aktivitas yang kita lakukan itu karena akan membantu kita meningkatkan kinerja kita dan hal ini penting dilakukan. Lambat laun, jika kita tidak melakukannya, bisa jadi teknologi yang akan menganalisis aktivitas kita dan memberikan pengingat untuk kita melakukan ini dan itu," ujarnya.
Terkait hal itu, ia mengatakan bawha seluruh pekerjaan yang tidak dianalisis, akan dianalisis oleh teknologi atau computer, seperti sistem penerjemahan menggunakan google translate yang hanya memerlukan waktu penerjemahan selama dua detik saja.
Kemudian ia menjabarkan pentingnya kemampuan mengatasi masalah dan solusi yang seharusnya diusahakan.
"Masalah akan selalu muncul karena dalam kondisi apapun akan selalu ada masalah dan kita yang harus memecahkan masalah demi masalah yang muncul. Bagaimana kita bisa mengelolah ini semuanya? Tipsnya, kalau di startup, kita pecahkan masalahnya, jadi masalah yang besar akan dibuat menjadi masalah yang kecil sehingga bisa diselesaikan dengan baik dan berdampak," ujarnya.
Founder dan CEO of goKampus Nathanael Santoso
Nathanael juga menyinggung penggunaan uang Kripto yang tidak pernah terpikirkan sebelumnya. Mata uang didesentralisasi infrastruktur dari digital dan dunia bisa berubah cepat sekali. Metaverse mulai muncul. Di banyak Negara rakyatnya sudah mulai transaksi menggunakan uang tersebut.
"Penggunaan uang Kripto ini lambat laun diakui secara internasional untuk menjadi alat tukar yang sah seperti yang sudah berlaku di Kanada, China, India, Brazil. Itu peran dari bit coin yang tidak mengenal legalisasi jadi hanya dari kesepakatan," terangnya.
Di sesi penutup, Nathanael menekankan pentingnya untuk mempersiapkan diri sebaik-baiknya dengan mengambil kelas tertentu yang membantu mempertajam teknik menganalisa dan memecahkan masalah atau pengembangan kemampuan dan bakat yang lainnya. Ia juga menawarkan program pelatihan yang disediakan goKampus untuk mewujudkan kemampuan tersebut melalui 37 kursus yang disediakan secara terprogram dengan biaya yang terjangkau.