Program Studi Akuntansi sukses selenggarakan Webinar "How to be Beginner Investor" pada Jumat (19/8/2022) pukul 09.00 WIB hingga 12.00 WIB. 
Adapun pembicara pada webinar ini adalah Sekretaris Program Studi Akuntansi Ibu Tita Nurvita, S.E.M.M  dan Market Analysis Ibu Anita Lubis S.M. RSA. 
Sebelum materi diberikan, Ketua Program Studi Akuntansi Ibu Tiwi Herninta, SE., MM, memberikan apresiasi atas terselenggaranya acara ini. Ibu Tiwi juga berharap melalui acara ini peserta webinar mampu menyerap ilmu tentang dunia investasi dan mengimplementasikannya sedini mungkin sebagai generasi muda tanpa menunda. 
"Semoga kita bisa tahu bagaimana cara memulai investasi dan tahu memilih media apa yang bisa kita gunakan sebagai sumber investasi yang tepat," ujarnya. 
Ketua Program Studi Akuntansi IBN Ibu Tiwi Herninta, SE., MM, 
Senada dengan yang disampaikan Ibu Tiwi, Ibu Tita sebagai pemateri perdana mendorong peserta yang terdiri dari sebagian besar generasi Gen Z untuk berani mengambil peluang berinvestasi. Hal ini sebagai salah satu upaya membantu Gen Z keluar dari ragam permasalahan keuangan yang dialami di era ini.
"Ada banyak permasalahan yang dialami oleh Gen Z yakni gaji cepat habis, memiliki banyak utang konsumtif, tidak memiliki dana darurat, sulit mencapai tujuan jangka panjang dan tidak memiliki investasi. Gen Z harus keluar dari ragam permasalahan ini dan investasi adalah salah satu kuncinya," ujarnya.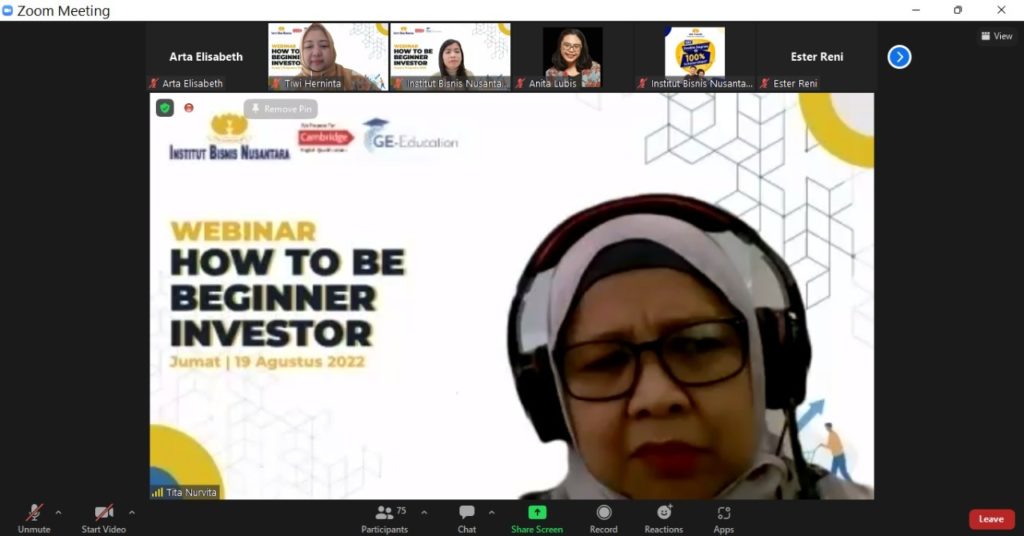 Sekretaris Program Studi Akuntansi Ibu Tita Nurvita, S.E.M.M  
Sehubungan dengan hal itu, Ibu Tita menjelaskan enam fase tahapan menuju financial freedom yakni mulai dari Fase ketergantungan, fase solvency, fase stabilitas, fase terbebas, fase aman dan fase merdeka. 
"Fase ketergantungan adalah fase dimana Anda sebagai gen Z masih ketergantungan secara penuh dengan orang tua, sementara fase merdeka adalah fase dimana Anda sudah memiliki passive income yang dapat membiayai berbagai kebutuhan Anda," ujarnya.
Market Analysis Ibu Anita Lubis S.M. RSA. 
Sebagai pembicara kedua, Ibu Anita mendorong peserta webinar untuk mempelajari secara serius ilmu tentang investasi sehingga mampu mengelola risiko dalam berinvestasi agar dampaknya bisa diminimalisir. 
"Menyambung pernyataan Bu Tita, Anda sebagai Gen Z sangat berpeluang menjadi investor. Ada banyak pelatihan investasi yang bisa disesuaikan dengan kemampuan Anda secara pengetahuan dan ekonomi," ujarnya.
Ia juga menyarankan generasi muda untuk berani mencoba berinvestasi. Menurutnya, dalam berinvestasi seorang investor bisa mengatur berapa besar investasi yang diinginkannya.
"Ekonomi sebenarnya bisa dianalisis, misalnya dollar lagi naik jadi belilah dollar. Anda harus tahu dahulu bagaimana pasarnya, jadi jangan latah, belajar dulu karena belajar itu investasi. Kalau sudah cut loss dalam saham sudah mundur maka mental Anda sebagai investor tidak teruji," ujarnya. 
Oleh karena itu, Ibu Anita menyimpulkan bahwa semakin tinggi keuntungan maka harus semakin besar juga resiko yang harus dilewati.
"Support berarti dukungan saat harga sedang naik dan resistance berarti perlawanan karena terjadi saat harga turun. Dalam hal investasi, support dan resistance tidak bisa terpisahkan. Sama dengan pasar dan trend, saham ada harga naik dan harga turun maka perlu mental kuat sebagai seorang investor," ujarnya.
Dengan demikian, Ibu Anita mendorong peserta untuk mengambil peluang mengasah ilmu dan kemampuan untuk berkecimpung di dalam dunia investasi dengan mengikuti berbagai pelatihan investasi, salah satunya melalui pelatihan yang difasilitasi oleh GE-Education. 
"Penting sekali bagi seorang investor untuk dilatih mentalnya sehingga tidak takut atas resiko kerugian yang dihadapi sebagai seorang investor," pungkasnya.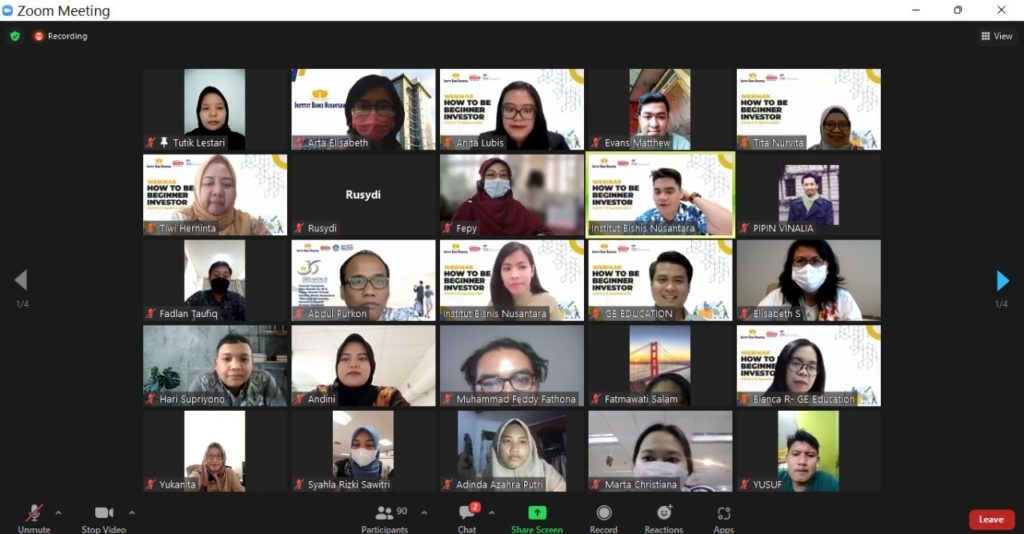 Peserta Webinar Open House Prodi Akuntansi