Institut Bisnis Nusantara program Internasional (GS FAME Institute of Business) sukses menyelenggarakan webinar dengan tema "How To Build Your Authentic Personal Brand" pada Kamis (7/4/2022) pukul 14.30 hingga 16.00 WIB.
Acara webinar ini dibuka oleh Supervisor Humas dan Admisi GS FAME, Bu Megah Ria dengan menyapa pembicara dan seluruh peserta yang sudah menyediakan waktu memperdalam materi tentang Personal brand.
"Selamat datang di acara webinar ini. Semoga acara ini dapat kita ikuti bersama dengan seksama sehingga kita bisa mengimplementasikan ilmu yang dibagikan dari acara ini," ujarnya. 
Supervisor Humas dan Admisi GS FAME, Bu Megah Ria 
Kegiatan ini merupakan kegiatan rutin yang diadakan oleh GS FAME Institute of Business sejak awal tahun 2022 dengan tujuan memperkenalkan Kampus kepada publik dan memberi pencerahan ke masyarakat mengenai pentingnya membangun personal brand sejak dini.
Dalam kesempatan ini, Kepala Program Studi Internasional Christopher T. Cura mengapresiasi Tim Humas GS FAME sebagai penyelenggara acara, narasumber Maeya Zee seorang Love Life Author & Coach yang menginspirasi dan para peserta webinar. Pak Cura berharap seluruh peserta dapat secara sungguh-sungguh memanfaatkan momen yang berharga ini untuk menyerap segala ilmu yang diberikan demi perkembangan diri yang lebih baik.
"Webinar ini akan sangat berguna bagi Anda sebab sangat relevan dalam membawa perubahan dan perkembangan bagi Anda di era digital, baik secara individu, sebagai siswa, dalam kehidupan di media social, untuk kepentingan bisnis maupun kewirausahaan dan masih banyak lagi. Oleh karena itu, perlu untuk menyadari misi dan visi Anda sebagai bagian dari personal branding dan perlu kemampuan mengimplementasikan gambaran diri yang otentik dengan image yang baik," ujarnya.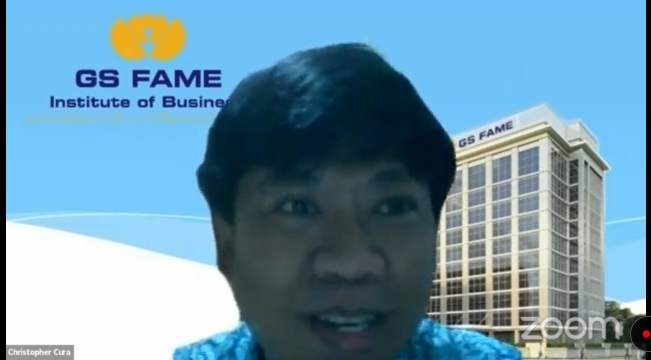 Kepala Program Studi Internasional Christopher T. Cura 
Sebelum narasumber membagikan materinya, Tim Humas GS FAME Sefaka Liman-selanjutnya Mba Sese menjelaskan profil singkat mengenai GS FAME dan keuntungan diperoleh peserta didik jika mengikuti program perkuliahan yang disediakan.
"Beberapa keunggulan program ini dibandingkan Institusi yang lain adalah seluruh materi pembelajaran menggunakan bahasa Inggris, peserta didik dapat lulus dalam waktu 3 tahun dengan dua gelar sekaligus yakni gelar internasional Bachelor of Science in Business Administration (BSBA) dan gelar nasional Sarjana Ekonomi (SE) dan terdapat ragam beasiswa pendidikan yang meringankan biaya pendidikan," ujarnya.
"Dalam program di GS FAME akan dilaksanakan dengan Full English Program, jadi bagi Anda yang tidak terbiasa berbahasa Inggris, maka Anda terbiasa menggunakan Bahasa Inggris sebagai bahasa sehari-hari. Justru kami akan mendorong Anda untuk berkomunikasi dalam bahasa Inggris sehingga Anda menjadi lebih mahir," ujarnya
Mba Sese juga menegaskan bahwa GS FAME terbuka untuk menerima siswa yang berasal dari berbagai jurusan mulai dari jurusan IPA, IPS bahkan SMK karena akan diadakan sesi pembelajaran untuk General Manajemen yang berorientasi bisnis mulai dari Accounting, Banking & Finance, Marketing, International Business, Business Management.
"Bahkan bagi Anda yang masih takut karena belum memiliki gambaran bisa mengikuti program Trial Class yang bisa diikuti secara gratis," ujarnya.
Maeya Zee (Love Life Author & Coach)
Setelah itu, narasumber Maeya Zee mengawali webinar dengan memberikan gambaran mengenai personal branding.
"Nama saya Maeya Sari namun nama personal branding saya Maeya Zee dan kita bisa membentuk personal brand sesuai dengan apa yang kita inginkan," ujarnya.
Maeya Zee mengajak peserta untuk membayangkan bahwa masing-masing individu merupakan sebuah produk yang harus dijual dengan nilai jual tertentu.
"Kalau Anda mau menjual diri Anda dengan menunjukkan kepribadian yang jujur, apa adanya dan tidak dibuat-buat maka Anda akan dikenal sebagai seorang yang jujur dan otentik. Anda akan tetap menghidupi nilai itu sekalipun tidak dilihat oleh orang lain dan itu yang akan menjadi brand Anda," ujarnya.
Ia menekankan pada umumnya orang yang belum mengenal sosok individu tertentu didorong oleh rasa keingintahuan tentang kehidupannya di masa lalu.
"Orang pasti selalu mau tahu tentang masa lalu kita dan ini nyambung dengan personal branding. Saya adalah pribadi yang pendiam, pemurung, sedih, kaku dan dingin. Saya menyadari ini yang menjadi pembatas untuk urusan karir, cinta dan bisnis saya. Jadi saya branding diri saya untuk menjadi sosok yang lebih positif seperti apa yang saya mau," ujarnya.
Di pertengahan sesi, Maeya Zee juga memberikan beberapa tes untuk membantu peserta mengenal dengan baik karakternya secara cepat dan general melalui tes www.fotokarakter.com dan tes MBTA.
"Pada intinya, kita harus mampu menampilkan self image alias citra diri. Keunikan mana yang mau kita tampilkan ke orang lain. Kita perlu punya kredibilitas. Being on time is late. Idealnya kalau janji jam 12 maka kita sudah harus tiba jam 12 kurang," ujarnya.
Ia juga menekankan agar seseorang dapat secara konsisten membagikan nilai postif yang dimilikinya secara terus-menerus sehingga akan memberikan daya ingat kepada orang lain mengenai pribadi yang seperti apa.
"Apa yang kita pikirkan dan rasakan akan menghadirkan produk yang seperti apa. Di Buku Steven Covey menekankan "You are what you wish'. Jadi, kalau mau menjadi orang yang berhasil maka pikirkan bahwa suatu saat Anda akan berhasil dan itu akan terjadi pada Anda. Bangun brand Anda dari sekarang," pungkasnya
Webinar dengan tema "How To Build Your Authentic Personal Brand"