Dosen Akuntansi Institut Bisnis Nusantara Ibu Tita Nurvita, S.E.M.M sukses mengikuti konferensi internasional "ESG Investments in East and Southeast Asia" yang diadakan oleh Tokai University (Jepang) melalui Zoom Meeting pada Jumat (12/5/2023) pukul 11.00 WIB.
Konferensi internasional ini merupakan hasil kerjasama dengan School of Global Studies, TOKAI Research Institute for Environment and Sustainability (TRIES), The University of Kitakyushu dan The University of Oxford.
Persentasi yang diikuti oleh 22 orang yang merupakan penerima beasiswa di beberapa negara seperti Indonesia, Rusia, Turki, Singapura, Jepang, India dibagi ke dalam beberapa sesi.
Dosen Akuntansi Institut Bisnis Nusantara Ibu Tita Nurvita, S.E.M.M  mendengarkan tanggapan dari reviewer 
Pada kesempatan ini, Sekretaris Program Studi Akuntansi IBN ini mempersentasikan penelitiannya para urutan ke-11 di sesi kedua dengan judul "Exploring the Determinants of Green Bond Performance in Asia: The External and Internal Factors. Melalui persentasinya, Bu Tita menjelaskan Greenium bentuk "investor taste" dimana ada investor yang memiliki tujuan investasi non pecuniary motives.
"Jadi dalam penelitian ini saya mau memperlihatkan bahwa Greenium dapat dijadikan sebagai suatu hal yang bisa dijadikan dasar bagi investor untuk menginvestasikan dananya di Green bond," ujarnya.
Melalui penelitiannya, Bu Tita mengungkapkan bahwa Greenium ditemukan di green bond di negara-negara di Asia. Menurutnya, dalam berinvestasi para investor tidak hanya berfokus pada profit namun juga mempertimbangkan non pecuniary motives.
"Jadi dalam berinvestasi para investor juga melihat unsur lain di luar profit ekonomi misalnya kelestarian lingkungan, pengurangan emisi gas. Tidak hanya berpaku pada keuntungan secara ekonomi saja," ujarnya.
Dosen Akuntansi Institut Bisnis Nusantara Ibu Tita Nurvita, S.E.M.M  
Ia menyimpulkan bahwa ada 2 faktor yang mempengaruhi munculnya Greneeum yakni faktor eksternal dan internal. Faktor internalnya berupa kupon yakni tingkat obligasi dari suku bunganya dan memiliki pengaruh yang signifikan terhadap adanya Greenium sementara faktor eksternalnya adalah harga minyak dunia dan interest rate dari bank sentral.
Berdasarkan persentasi yang dipaparkan, Bu Tita mendapatkan beberapa masukan dari reviewer yakni mengaitkan antara penelitian Greenium dengan harga minyak dunia.
"Jadi masukannya adalah dielaborasikan semuanya, kemudian bagaimana agar bisa memonitor keberadaan Greenium sehingga tidak hanya ada pada saat penerbitan atau secondary market. Perlu juga untuk monitoring pelaksanaannya,"ujarnya.
Ia juga menyatakan perlu untuk menyelidiki pemanfaatan dari Greenium yang digunakan untuk pelestarian lingkungan ataupun tujuan lain.

"Jadi, Greenium benarkah mengangkat isu lingkungan dengan memberikan logo hijau atau hanya berhenti pada logo saja sementara dananya tidak dialokasikan untuk pelestarian lingkungan? Ini perlu diteliti lebih lanjut," ujarnya.
Bu Tita berharap di masa mendatang, dosen IBN mendapatkan kesempatan untuk mengikuti konferensi internasional demi pengembangan kualitas dosen, mahasiswa dan institusi.
"Semoga ke depan dosen IBN diberikan kesempatan dan punya kesempatan mempersentasikan karyapenelitiannya sampai ke luar negeri. Kesempatan ini banyak manfaatnya karena selain menambah pengalaman bagi dosen, konferensi ini juga bisa membantu penyempurnaan kurikulum di perkuliahan dan mendorong mahasiswa untuk berkembang dengan isu-isu global terbaru," ujarnya.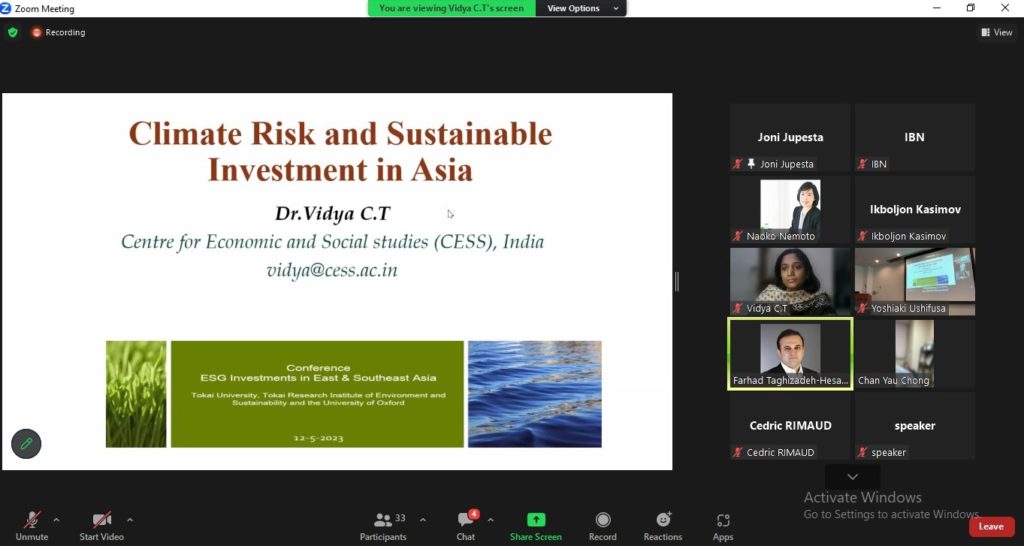 Peserta ESG Investments in East and Southeast Asia
Kandidat Doktoral IPB Bogor ini juga berharap agar institusi secara konsisten dapat memberikan dukungan penuh terhadap pengembangan karya penelitian dosen baik secara nasional maupun internasional.
"Semoga IBN dapat terus mendukung dosen-dosen untuk mempublikasi, melakukan penelitian, mengupgrade skillnya karena sangat bermanfaat untuk pengembangan mahasiswa, dosen dan juga institusi," pungkasnya.