Satgas PPKS Institut Bisnis Nusantara mendelegasikan Adristi Sabrina Jasmine, Erza Damayanti, dan Jelica Rachma Dhita dalam kegiatan advokasi kesehatan reproduksi serta penanggulangan HIV AIDS di perguruan tinggi yang diselenggarakan oleh Komisi Penanggulangan AIDS (KPA) di .
Perguruan tinggi yang menghadiri acara tersebut terdiri dari perwakilan perguruan tinggi wilayah Jakarta Timur, Jakarta Utara,dan Kepulauan Seribu pada Rabu (19/10/2023).
Acara dipandu oleh Debby Irmayanti selaku Bidang Dukungan & Layanan KPA.
Acara pertama dibuka oleh dr. Taufik Alief Fuad yang menjelaskan materi dengan tajuk "Situasi dan Layanan Pengobatan HIV AIDS di DKI Jakarta". dr. Taufik menyampaikan tujuan pengendalian HIV ialah Zero New Infection dalam artian sedini mungkin pencegahan terinfeksi HIV dilakukan, Zero AIDS Related Death yaitu perilaku mencegah terkenanya AIDS, selain itu Ia menyampaikan Zero Discrimination yaitu mencegah dan mengurangi diskriminasi terhadap seseorang yang positif HIV atau dapat disebut Orang dengan HIV (ODHIV)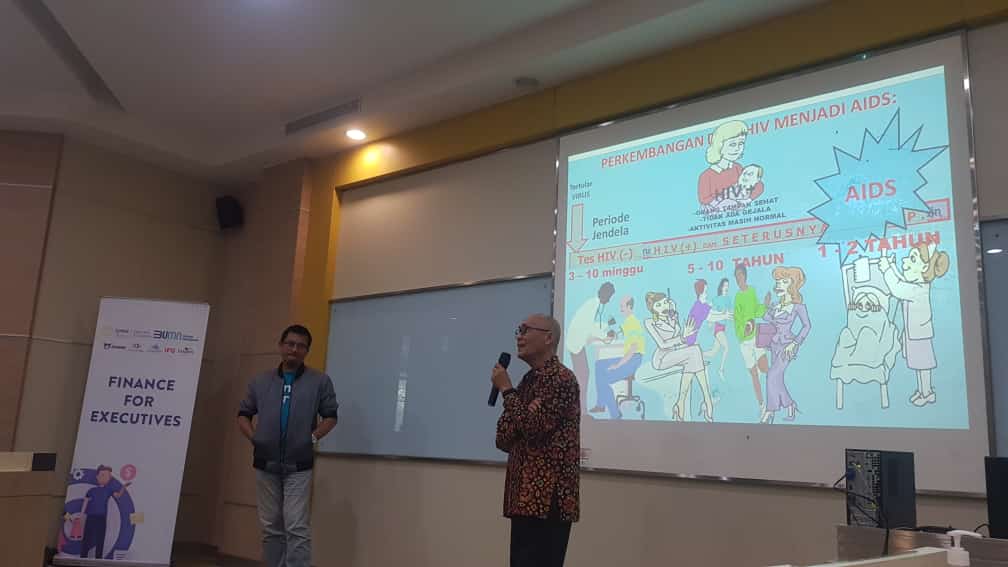 Pembicara sedang menyampaikan materi
Acara dilanjutkan oleh Nuryanto seorang ODHIV selaku perwakilan Yayasan Kasih Suwitno namun tetap berprestasi. Menyampaikan pengalaman pribadi nya bahwasannya orang yang terkena HIV bukan berarti harapan hidupnya telah pupus. ODHIV tetap dapat menorehkan prestasi, menikah dan bahagia. Beliau menyampaikan, penularan HIV hanya dapat ditularkan dari 3 media yaitu cairan darah, cairan kelamin, dan air susu ibu yang ODHIV.
Acara ini berkolerasi dengan unsur Commitment to the pentahelix yaitu adanya pengaruh pemerintah, akademisi, media, private (pihak swasta atau perusahaan) serta komunitas.
Pembicara sedang menyampaikan materi
Sejalan dengan hadirnya para mahasiswa dalam ruangan yang berlokasi di IPMI Business School, menjadi peran penting bagi akademisi untuk melakukan advokasi kepada teman-teman khususnya dalam lingkup perguruan tinggi.
Output yang dihasilkan pada sosialisasi tersebut ialah menghasilkan rencana program kerja untuk memperingati hari AIDS Yaitu 1 Desember 2023.
Penulis: Adristi Sabrina Jasmine